Join Us for the RUN FOR SAFETY 2023 Event!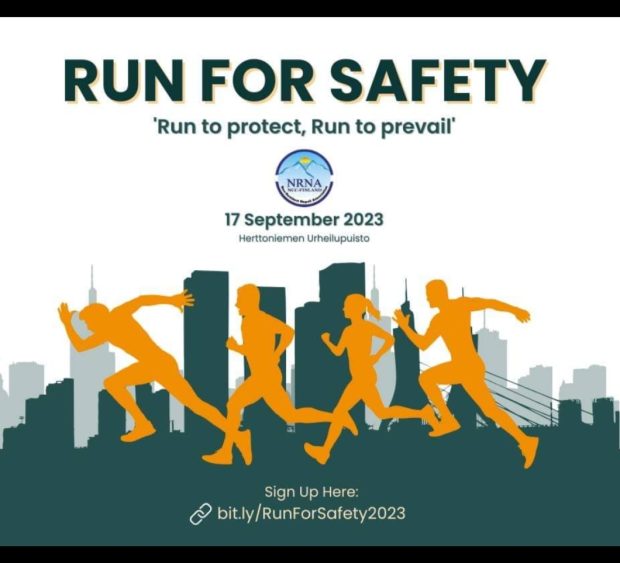 Hello everyone! Get ready to lace up those sneakers and join us for a fantastic event dedicated to promoting safety in our community. It's time for the "Run for Safety 2023" event, and we can't wait to see you there!
📅 Date: 17 September 2023 Sunday
⌛ Time: 11:00 – 14:00
📌 Location: Herttoniemen urheilupuisto, Siilitie 12, 00800 Helsinki
This event is all about coming together as a community to raise awareness about safety measures while staying active and having a blast. Whether you're an avid runner or just want to enjoy a leisurely stroll, there's something for everyone.
There will be a total of six different categories;
1. 8-12 years (Unisex) – 400m (1 round)
2. 13-17 years (Unisex) – 800m (2 rounds)
3. 18-40 years (Men) – 5.2 km (13 rounds)
4. 18-40 years (Women) – 2 km (5 rounds)
5. Veterans (above 40 Men) – 1.2km (3 rounds)
6. Veterans (above 40 Women) – 800m (2 rounds)
🏆 Prizes: There will be certificates and medals for each participant who will complete the race in each category. Everyone who completes the race is the winner.
Entry fees will be free for all our NRNA members and their children and 5€ for other participants.
Safety is a priority, so rest assured that we'll be following all necessary health guidelines to ensure a safe and enjoyable experience for everyone. There will be a paramedics team for emergencies, local nurses with first aid kits, and other volunteers to take care of your safety and guide you through the events.
Ready to make a difference? Register now at https://forms.gle/cdxrDjLB96NTkNWT9 and secure your spot. Let's run together, learn together, and create a safer community for all.
See you at the starting line! #RunForSafety2023 #CommunityFirst #StaySafeRunStron
For your information, we are organizing this event in memory of the late 'Arjun Bhalami', and we will be using the remaining funds that were raised by NRNA for his body repatriation last winter.